8/7/2011: I've included an updated review of GHG2 in Part 3. 
I invested on our first Cloth Diapers last June — bought 5, then 2, sold 5 and bought 4 more – and since then hasn't stock up any new, or tried any other brands. I am that loyal
As Natey is fast outgrowing his Autumnz — fits 3-18kg but he's only 9kg — I began my hunt for a new alternative when Gifts From Heaven was recommended. And here they are just before CNY! But are they as claimed to be?
GHG2 One Size Washable CD
With 2 Microfiber Inserts, RM35.00
Gifts From Heaven vs Autumnz
Generous in Sizing almost 4 inches longer
Double Buttoned Hipster
Extra security for a snug fitted finish!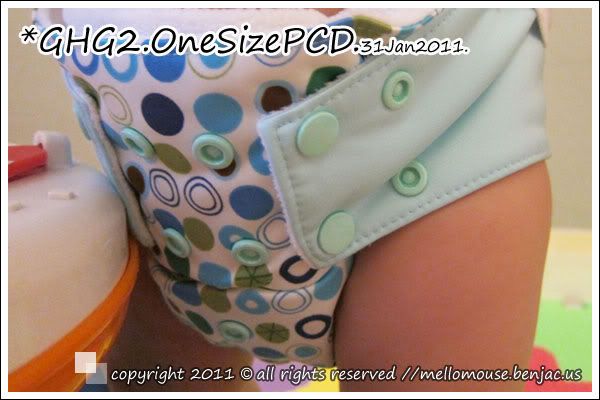 My Verdict:

As you can see from Pic#2, GH is very generous in length compared to Autumnz. GHG2 fits 3-15kg, Autumnz 18kg.

Although weight is just a buying guideline, 3kg is a big difference. With the additional 8cm in lenght, Natey is wearing GH at the middle button. Whereas Autumnz is fully extended and getting a bit small. This definitely means more value for money as GH can be worn longer.

What I like most about GHG2 is the double snap buttons at the hip (Pic#3). It gives a "neater" and secure fitting compared to the single button design. Do remember this factor when you decide on buying yours — whatever the brand may be

Another very important note, Natey's behind looked less bulky too. If your baby is cloth diapering, you will know what I mean. The shell plus insert adds volume to the lower body. Wearing Autumnz made Natey's little bumbum looked Fatty bumbum *LOL*
So are they gifts from heaven? I'll leave that for you to decide. For RM35, I am happy to recommend this brand to you. If they had more colours, I wouldn't mind getting another 2 pairs from them